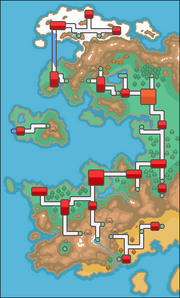 The Omega World Map allows the user to use the Fly ability, learned from the beginning of the user's adventure, which teleports you to any of the cities and towns colored in red. Before you can fly to them, you must first reach them on foot to discover them. A part of Beta 3.0 Omega was extended an extra region.
To access this page, go to Travel, then click "Worldmap".
See the page to find the complete list!
Ad blocker interference detected!
Wikia is a free-to-use site that makes money from advertising. We have a modified experience for viewers using ad blockers

Wikia is not accessible if you've made further modifications. Remove the custom ad blocker rule(s) and the page will load as expected.